Arthur Keegan often draws on text to inspire the music he writes, from poetry and literature to twitter feeds and graffiti. He writes both instrumental and mixed (instrumental + electronic) music and has been performed across the UK, the US and Canada and broadcast on BBC Radio 3, working with the Ligeti Quartet, Lotte Betts-Dean, Joby Burgess, the London Symphony Orchestra and Ensemble Musikfabrik. Only first experiencing Classical concert at the age of 16, coming from a non-musical family, Arthur is passionate about inspiring musicians from less advantaged backgrounds to pursue artistic careers and engage with classical music and often does work for charities such as Music for All.
Alongside composing Arthur is active as a conductor and sound engineer. He teaches composition at Middlesex University and may also be found making chess sets or playing cricket.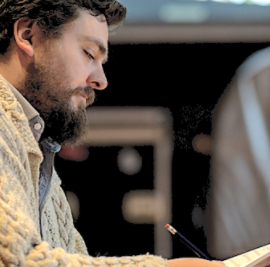 Afterwards, Elegies for Tom (Extracts)
Processing video...
The Walk - Arthur Keegan-Bole
Processing video...
His music cross-pollinates approaches to electronic and instrumental musics and is performer and audience-focused. He aims to create expressive music that performers enjoy playing and emotive, immersive listening experiences for audiences.
His first opera The Interrogation of Adam Pollo was awarded a Director's Choice Award from the Boston Metro Opera Company in 2014 and his most performed work, Nocturne No. 1 for guitar and electronics, was written whilst on a residency at the Eastman School of Music, New York. He is a current recipient of the Paul Hamlyn Award. ​​
Current projects include a collaboration with Lotte Betts-Dean exploring art-song settings of poetry by Thomas Hardy and a spin-off project with the Ligeti Quartet which responds to Hardy's poem 'Afterwards'. Arthur is also developing a dance and visual art project. In 2021 he wrote a song cycle commissioned by Wild Plum Arts and the Estate of T.S. Eliot (recording to be released in 2022) as well as an overture for the University of Bristol Symphony Orchestra.He is a recipient of the Paul Hamlyn 2020 Award for Artists.
A song cycle setting Hardy's Poems of 1912-13 for mezzo-sop and guitar -
2020
An ongoing collaboration with
Lotte Betts-Dean
(mezzo-soprano). The cycle was started in May 2019 with
The Walk
,
Rain on a Grave
, was written whilst on a Wild Plum Arts/ Britten/Pears Foundation residency premiered in
December 2019
Completion of the set is scheduled for
2020/21
The Walk - Arthur Keegan-Bole
Processing video...
Commissioned by Severnside Composer Alliance. ​Composed over
Christmas 2020
Lullaby Haiku - A. Keegan-Bole
Processing video...
Dorian: Dance Suite (vln., vla.)
London Symphony Orchestra players
2022
Arthur Keegan-Bole // Dorian Suite
Processing video...